# Baking Eggless - Butter Cakes
Butter cake is a basic cake and an easy one to attempt for novice baker. I was happy to see
Gayatri's
choice for
Baking Eggless
this month. I thought it would be quite easy and straightforward and I wanted to experiment with buttermilk as a substitute. I did my research and was quite confident. The first test - batter was tasty and light (happy me). Good!
After 20 minutes of baking time (given in the recipe) the centre was still gooey. Another 10 minutes, and then another 10, and finally it was baked through. Phew!
Oh never; never take any thing for granted. Never. It did try my patience, and am waiting to slice through the loaf (fingers crossed).
Result:- Soft and tasty.
Ingredients:
Butter - 1/2 cup + 3 rounded Tbsp
Sugar - 1/2 cup
Buttermilk - 1 cup + 1/3 cup (or use 3 Eggs)
Plain Flour - 1 cup + 2/3 cup
Baking Powder - 2 tsp
Cranberries - 2 tbsp + 1 Tbsp
Walnuts - 2 tbsp, chopped
Light Brown Sugar - 2 Tbsp
Cinnamon - 1 tsp
Instructions:
Pre-heat oven to 170* C.
Soak 2 Tbsp cranberries in just enough water for 15 minutes. Drain.
Sieve flour with baking powder.
Cream 1/2 cup butter with 1/2 cup sugar.
Add buttermilk slowly, beating well after each addition (add 1/2 cup at a time). If the mixture curdles, add a Tablespoon of flour before the next addition of buttermilk.
Fold in flour and then the cranberries and walnuts.
Transfer to a greased and floured tin.
Bake in pre-heated oven until golden brown. It took about 40 minutes in my oven for it to bake through; and I used the grill mode for 2 minutes for a golden brown hue.
Mix 3 Tbsp butter with cinnamon and light brown sugar.
Take the tin out of the oven and spread with butter-cinnamon-sugar mixture.
Remove from tin after 10 minutes.
Serve warm.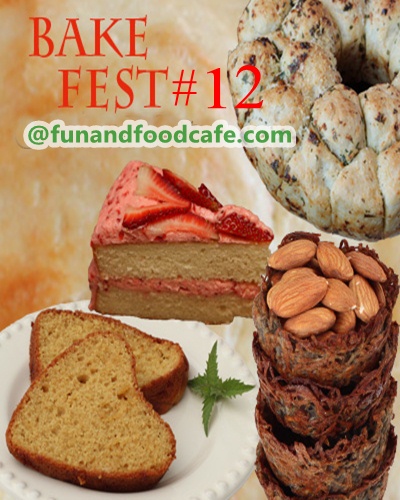 Linking it to Vardhini's
Bake Fest #12
hosted at
Fun & Food Cafe
;
"I love Baking"
and
VFAM - Cranberry
Other Eggless Bakes -
# Baking Egg-less Biscotti
I used Cranberries and Walnuts instead of Raisins. As I am writing this post, it just occurred to me that the next time I should substitute applesauce for eggs - as the combination of apples, cranberries, walnuts and cinnamon would definitely be great! Yes?
Quick Ref for Egg Substitutes @
Chef in You
and
Wiki Answers
.
More about Butter Cakes @
Joy of Baking